Nos projets de recherche ont pour but de développer des stratégies en synthèse organique. Pour y arriver, nous comptons identifier de nouveaux moyens d'accéder rapidement à des

molécules polycycliques complexes à partir de précurseurs acycliques simples. Ces précurseurs comporteront des unités réactives, disposées sur des embranchements, utilisées pour le repliement de la molécule en systèmes polycycliques. L'étape-clé fera donc appel à des réaction

s

en cascade pour générer de manière sélective plusieurs types de squelettes de produits naturels, d'où la généralité de notre programme de recherche.


La synthèse totale occupera donc le coeur de nos investigations, avec des buts précis d'élaborer des stratégies générales et innovatrices. Les stratégies que nous entendons développer visent de larges applications pouvant mener à des composés naturels et/ou non naturels importants d'un point de vue médicinal. Au fil des ans, nous avons développé plusieurs stratégies de cyclisations en cascade telles que (A) Cyclisation de Vilsmeier-Haack et cycloaddition (3+2) d'ylure d'azométhine en séquence, (B) Cyclisations de Vilsmeier-Haack et de Mannich en tandem, (C) cascade d'activation d'acide aminé - cycloaddition de münchnone - ouverture de cycle et (D) cycloadditions cétène-alcyne et cétène-alcène intramoléculaires
.
In the pursuit of synthetic efficiency,
my research group
developed an innovative one-pot transformation of linear substrates into bi- and tricyclic adducts using a cascade of Vilsmeier-Haack cyclization and azomethine ylide cycloaddition. Despite the high density and variety of functional groups on the substrates, the sequence occurred with perfect chemoselectivity with good to excellent yields (Org. Lett. 2008, 10, 4939).

The versatility of our planned synthetic strategy is noteworthy. The branches bearing the nucleophile and the dipolarophile can be attached in many different ways onto the amide group. Upon the proposed key transformation, these various possible assemblies will lead to very diverse skeletons that belong to a wide range of alkaloid families of pharmaceutical interest. Because of this new way to generate azomethine ylides, we were even able to fully control the order of reaction in the cascade, forcing the cycloaddition prior to the nucleophilic cyclization (Org. Lett. 2010, 12, 1396). This subtle change led to exactly the same product, but with a phenomenal diastereoselectivity and much higher yields, thus bringing a neat solution the very poor diastereoselectivities usually associated with azomethine ylide cycloaddition.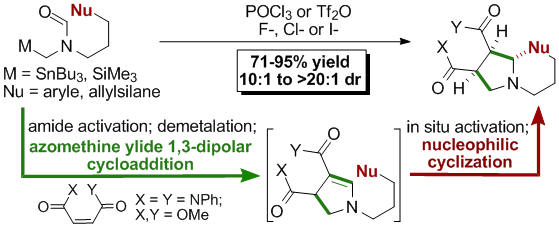 Applications of our strategy are quite spectacular: we were able to synthesize the tetracyclic core of daphnilactone B- and yuzurimine-type alkaloids in 33% less steps than our closest competitor (Org. Lett. 2011, 13, 6204; J. Org. Chem. 2016, 81, 9247). Despite the fact that members of these 2 classes were discovered up to 35 years ago, no synthesis is reported to date. Two other research groups work on these skeletons as well. This application of our strategy clearly establishes its efficiency and high potential, which will tremendously facilitate the construction of polycyclic natural products.